Pump It Concrete Pumping & Liquid Screed Projects in Cheshire
We offer our services to a vast array of Northern areas in England and Wales and one of the regions which most often requires our services, is the county of Cheshire.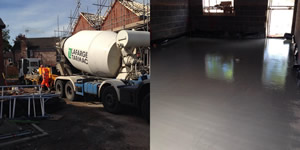 Recently we were contracted to complete a job in Wilmslow that called upon our excellent Agilia material: a more refined kind of liquid screed. Many businesses request this specialist substance from us and for good reason as it's not only resilient but is also easy on the eye. Concrete can sometimes provide a far rougher texture on the surface with modern design favouring cleaner, more sterile aesthetics.

The project in question was for many different houses and is one of the largest-scale projects we have been involved with. Over the course of 7 visits, we would lay our liquid screed in 6 different houses.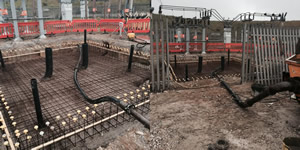 Pump It enjoys working with regular clients and this is evidenced by the fact that they keep coming back for our services, by the name of FCE Projects LTD.
They first contracted us for our concrete pumping services on a project in Halkyn at the Pant Quarry. FCE work with substations and relied on our help to pump concrete into a slab on-site. We returned at a later date in the week to supply more concrete for a bund wall.
Our later works with this company also included a trip close to our base in Halkyn Mountain. Similar to Pant Quarry, the Point of Ayr Substation required our help for pumping concrete but discretion was advised as the substation was live! We took the necessary precautions and managed a positive outcome on both accounts. As a result, we hope to work with this company again in the future.
In addition to these two, we also helped out on a barn conversion project in Eaton, Congleton. It was a straightforward job but took quite a while as it was on such a large scale. The team managed to get the job done quickly and properly and had commendation from the client for the effectiveness of our services. If you wish to enquire about how we may be able to help you, don't hesitate to contact us.