Pump It Concrete Pumping & Liquid Screed Projects in Conwy
We always aim to achieve the best results from all of our projects, despite any difficulties that may arise. This was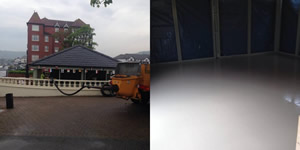 evident in our recent working relationship with a hotel in Rhos on Sea that had one or two initial snags.
Like many other local businesses who want to add a bit more finesse to their decor, a restaurant in Rhos requested our
liquid screed
services to provide a much smoother surface. It provides a more refined finish to standard concrete applications and dries much quicker, meaning that it is suitable to be walked on shortly after being applied. This makes it ideal for a business like a restaurant.
When we first arrived on-site, we did run into some issues in that none of the pre-arranged preparations had been taken care of. However, thanks to some teamwork, we were able to get the job done fuss-free.