Concrete Pumping and Liquid Screed Projects in East Midlands
We here at
Pump It
always strive to accommodate all customers, even those that may be further way than other
concrete pumping
businesses would work with. A prime example of this is the recent job we performed in Derby.
This job was possible thanks to a close professional relationship with fellow trade company, LA Davies Construction Ltd who are based in Queensferry. Knowing that we offer excellent and dependable services, they hired us to pump concrete into a slab which came to 29m3 in total. The client, HSS Tool Hire were pleased with the results and it was a relatively fuss-free job.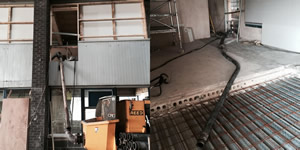 The popularity of our services is evidenced by the same construction company coming back to us shortly after for another subcontracting job, this time in Nottingham.
This job was on a much smaller scale and was completed without any problems. The usefulness of concrete pumping was on full display during the job - the client could not gain access with wheelbarrows to the first floor so we were called in to pump concrete. Only 3.5m3 of concrete was needed so everything went smoothly and we hope to work with the customer again in the near future.
Pump It pride ourselves on working closely with all our clients. To find out how we may be able to assist you, don't hesitate to contact us for more information.