Pump It Concrete Pumping & Liquid Screed Projects in Liverpool
We here at Pump It pride ourselves on finding a solution to even the most complex of jobs we're hired for and that's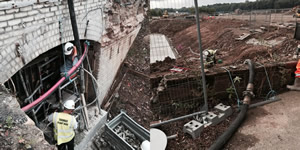 exactly what happened when we were tasked with concrete pumping into a bridge in Bromborough.

The client, Thomas Contracting Ltd., a local contracting company who sourced us for the job, required 3.5m3 of concrete to be pumped into the base of a small bridge in Bromborough. As you can expect, it wasn't a straightforward job as we were required to navigate our way around the structure meaning that our rubber pipes had to go over the wall and into the base of the bridge.

Apart from the slight hold-up, we were able to complete the job fuss-free after two visits and received good feedback from the client for our efforts.
Elsewhere in the Merseyside/Wirral area, we were tasked with a more stylistic job than a integral one and we achieved a great result nonetheless with our liquid screed solutions.
Liquid screed distinguishes itself from standard concrete in that it takes far less time to dry and provides a smoother, more refined surface. This makes it a great fit for modern furnishings and is more durable than concrete in many instances. If you want a step-up from your standard solutions, we are able to provide thanks to our excellent liquid screed services.
Adept Solutions Ltd hire us to provide a smooth finish to a refurbished shop and we were gladly able to provide. The job was straightforward and the client was delighted with the outcome. For any more information on liquid screed or any of our other services, don't hesitate to call us on 01352331835.
In Wirral was another job that required our liquid screed services. Liquid screed is growing in popularity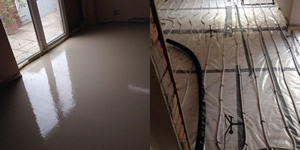 and this client was smart to choose it for their application.
A private customer in West Kirby, Wirral had personally requested us after a fantastic recommendation from Tony Roberts & Son. It was thanks to a prior job with the contracting company that we had a strong working relationship and were recommended off the back of this - it goes to show that we are a reliable and dependable company for your requirements.
The job was very straightforward for our team and after a simple setup into the property, our work was done. For any more information on the above projects or if you'd like to hire our services, be sure to contact us.