Pump It Concrete Pumping & Liquid Screed Projects in Wrexham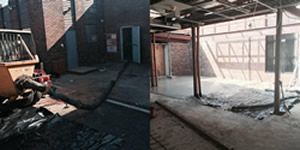 Pump It have a wide range of areas we can cover and with our base being in North Wales, it makes us ideally situated to help all the great local businesses and companies with our concrete pumping and liquid screed services. One such organisation that needed our help was the radio station Heart in Wrexham in July.

By working closely with a Birmingham based company by the name of MK Contractors, we were able to overcome a minor issue in the early stages of the project. Originally, we were to take the indirect and more complicated route of going over the top of the building and down to pump 12m3 of concrete into a slab but the station eventually allowed us to go through the building instead. After this, the rest of the service ran smoothly throughout the rest of the project.
This is is just one of many initially challenging projects Pump It are involved in that we find a way of making the best out of. If you require any assistance for a potentially problematic job, be sure to call us.